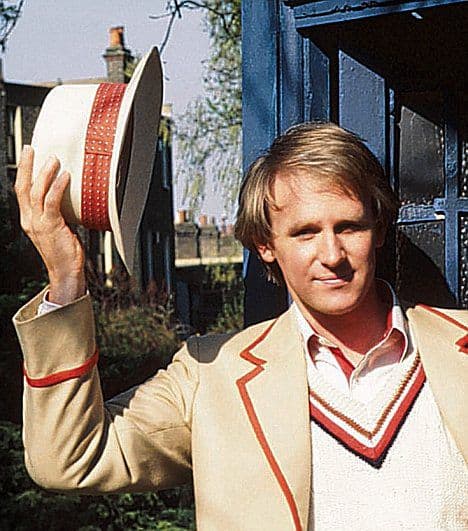 Book Review

Is There Life Outside the Box?
An Actor Despairs
Where the Title Comes From

Author: Peter Davison

Foreword: David Tennant
Published by: John Blake Books Publishing Ltd
Release date: 6 October 2016

"Be afraid. Be very afraid." Those comforting words are Peter Davison's tweeted response to his publisher's photo of the newly prepared proof copy of his autobiography, "Is There Life Outside the Box?". The self-deprecating humor is typically Davison. So is the air of anxiety.

At a convention in March 2016, when asked about his book, he responded in tones of panic-stricken dismay, "Well... I'm writing it now. I'm downstairs. I've got to deliver it by the end of April! What am I going to do? I've still got twenty years of my life unaccounted for!" Then, shifting gears, the consummate professional, survivor of innumerable conventions, panels and interviews, was back to continue his response in detail, intertwined with his trademark humor and charm. This is also the tone of his quite intriguing life story, and that same humor and charm are mainstays of the book.

A familiar face on British television for over 40 years, Peter Davison has acted in two iconic series, "All Creatures Great and Small" as the incorrigible yet lovable Tristan Farnon, and "Doctor Who" as the dashing Fifth Doctor. He has also had the lead in numerous other popular series, from comedies to dramas, including "Sink or Swim", "A Very Peculiar Practice", "Campion", "At Home with the Braithwaites", and "The Last Detective". Guest appearances on other series, audio/radio work, and stage productions, including his Olivier Award nominated performance in the recent West End musical production of "Gypsy", have filled his very busy acting career.

Outside the box, he has had three marriages, resulting in one daughter, two sons, one son-in-law (actor David Tennant), and four grandchildren who are all now busily growing the Davison-Tennant acting dynasty.

Detailed with honesty and wrapped with humor, the evolving story of this mix of career and personal provides the substance for the book.

Unlike many "auto"-biographies which are actually written by ghostwriters after interviewing their subjects, "Is There Life Outside the Box?" is indeed self-written by Peter Davison. This aspect gives his book a pleasant, intensely personal feel that greatly adds to its overall reading texture, laced with expected laughter and unexpected depth as well. It's not just the same old thing, and has obviously been a labor of love, as well as an exercise in reassembling the story of a actor's jumbled life frequently lived in the goldfish bowl of celebrity.

ITLOtB refrains from kiss-and-tell tabloid journalism or venomous personal outbursts. It's not that Peter D. is perfect, something he is quick to admit in the book. But innate personal kindness is reflected as he relates sometimes harsh experiences with minimal barbs. The target of most of his humor-diffused barbs is usually himself. Targets of the few other barbs likely deserve them.

In his Preface, Peter explains his decision to focus on the "outside the box" aspect of his life rather than just repeating the same "inside the box" stories which would likely primarily pertain to "Doctor Who" or "All Creatures". He's told some anecdotes many times, and they've already been duly recorded and put into many books, videos, magazines and blogs. This may be a disappointment for some, but for space alone, it seems a necessary decision. There are some of those tales of course, for flavor, but just not an overwhelming number of them. There are plenty of newly told tales, and the resulting balance of old standards mixed with new material works well.

Structurally, the book reflects the jigsaw puzzle of this amazingly busy actor's life by intercutting between "as it's being written" moments with flashbacks to more detailed memories of some part of his earlier life to which that particular moment connects. For someone used to popping through time in a Tardis or figuring out continuity in a tv script, this is most likely a commonplace way of living, but in his preface, Peter credits Mark Twain for the concept.

This reflective, episodic technique works quite well for a complex life that's being recalled in bits and pieces, including a fascinating chapter entitled "A Short History of the World Before I Arrived In It" which tells of his family's history. There could be an entire book written there on its own.

Although ITLOtB generally flows from days past to days present, like some meandering river sporadically filled with curves, conflicting currents, rapids, and falls, the specific flow of time often becomes non-linear as it progresses, becoming, as Doctor Who might say, "a big ball of wibbly-wobbly, timey-wimey ... stuff."

I don't quite know how that works, but the end result is feeling that one has personally experienced a firsthand journey following the evolution of a young, unfocused, somewhat rebellious youth into a mature man who has developed, deepened and honed his own creative skills, and finally has found the balance needed between love and family and creative work. They say nice guys finish last. In this case, it's good to see that this nice guy has finished first. He asks at the start, "Is There Life Outside the Box?" An enlightening book later, with the love of his life at his side and his family around him, the answer is, "Yes."

As to "despair"... well, he is an actor, after all...

This entertaining and skillfully woven book is a must read for all Peter Davison fans, for Doctor Who fans of the Classic Series, for All Creatures devotees, for anyone at all who wants to be an actor or who is interested in that profession, and for everyone else who just likes to see how a very intricate and interesting life has taken shape over a lifetime. Job well done, Peter.

Peter Davison is far from retiring. His career is still going strong with tv, film, and audio work ongoing. Volume II, perhaps?


~ Mary Ellen Daugherty
15 Sept 2016 

(Unpaid review originally based on an uncorrected review copy provided by John Blake Books. The actual final edition is now a verified purchased copy.)
Link to an interview with me about
"Is There Life Outside the Box?"
Columbia River Reader newspaper (10 Jan 2017)

"What Are You Reading?"

A Message from Peter Where do I start? More particularly, given that I'm still breathing, and available for work, where do I finish?
~ Preface, "Is There Life Outside the Box?"
Peter Davison Hub and PeterDavisonHub.com are Copyright © Mary Ellen Daugherty 2016. All articles are original and owned by the named writers thereof.
All original artwork Copyright © the named owner unless otherwise stated. Images are used under fair use terms except where a source is attributed.
External sources are quoted where relevant. Peter Davison Hub is a non-profit-making project.

Doctor Who, the Doctor Who Logo and the TARDIS name and image are Copyright © by the British Broadcasting Corporation (BBC) 1963, 2004. The Dalek name and image Copyright © Terry Nation 1963.
No infringement on any of these Copyrights (or any Doctor Who BBC Licence Holder Copyright) is either implied or intended.
Website hosting and domain registration powered by DomainNameSanity.com